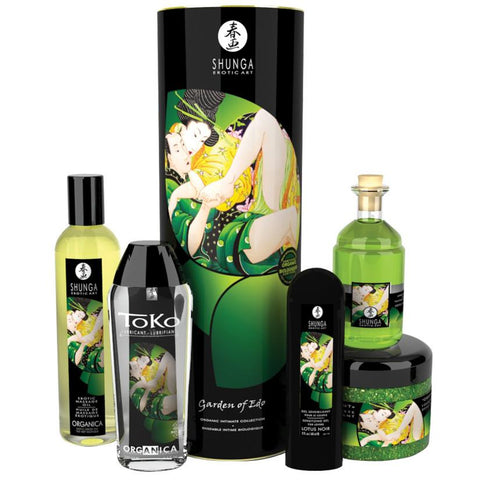 Shunga Garden of Edo Organic Collection-5 Piece Set
A sophisticated collection of Organic Intimate Products.
Featuring The Black Lotus gel - Exclusive in the Garden of Edo collection! - which heightens clitoral sensitivity and can be her ticket to multiple orgasms, while it enhances sensations in the head of the penis.
SHUNGA has developed its Garden of Edo product line dedicated to those who are passionate about lovemaking and nature looking for products that contain both carefully selected natural and certified organic ingredients.
 Includes 5 organic products:
Organica massage oil exotic green tea - 8 fl. oz.
Intimate Kisses oil exotic green tea - 3.5 fl. oz.
TOKO Personal lubricant Organica - 5.5 fl. oz.
Oriental Crystals Dead sea salt Lotus flower - 14 oz.
Black Lotus Sensitizing gel for lovers - Net 2 fl. oz .
---
We Also Recommend
---