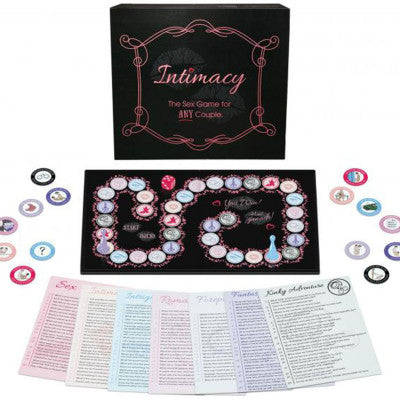 INTIMACY BOARD GAME
The board game where people answer personal questions and perform erotic activities with lovers as you move around the game board. Players explore seven categories of intimate fun, while they earn sexual rewards. The winner gets to select the reward coin to act out, but the other player selects which of the two sides they enjoy. 
A game board, 1 die, 2 game markers, 14 sexual reward coins, and 2 question cards for each of the 7 categories: Sex, Intimacy, Intrigue, Romance, Foreplay, Fantasy, and Kinky Adventures.
ALL OF THE GAMES WE CARRY ARE FROM SECULAR MANUFACTURES AND MAY CONTAIN INAPPROPRIATE SUGGESTIONS OR IDEAS. (A CARD COULD SUGGEST WATCHING PORN TOGETHER FOR EXAMPLE) IT IS UP TO YOU TO GO THROUGH THE DECKS AND DISCARD THEM BEFORE PLAYING. IF THIS WILL BE A STUMBLING BLOCK FOR YOU, PLEASE DO NOT ORDER THEM. 
---
We Also Recommend
---