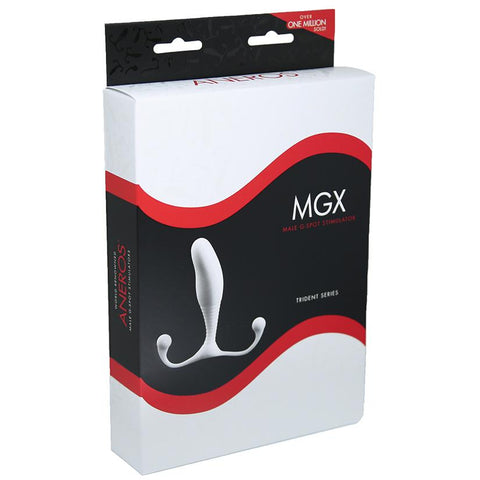 Aneros MGX Trident
 MGX Trident features a smaller head for easier insertion, a gently tapered body for smooth action and a ribbed stem for enhanced anal stimulation. The MGX Trident is easy to use and fulfilling for both the beginner and the expert, with progressively rewarding exercises and experiences. The MGX Trident is the most balanced model, and features a ribbed stem to enhance sensations in the anal canal.
The Trident Series introduces Multi-Axial Motion Architecture, or MAMA, our revolutionary feature which allows the Trident to move laterally as well as move up/down and in/out. This extra dimension of movement adds an extra dimension of pleasure, making it easier for a man to reach the Super-O. We think you'll be blown away by it.
The Aneros Stimulator allows men to self-administer a prostate massage comfortably and discreetly. Simply through anal kegel exercises, the Aneros's design utilizes a self-pivoting mechanism that stimulates the prostate internally and external via the perineum. This is done completely hands free, allowing a user freedom to explore the sensations in any number of positions.
Angled head massages the prostate
New Trident arms for better movement
Contoured MAMA body for lateral and rotational movement
Perineum tab for external prostate stimulation
Kundalini tab for pleasurable sensations
---
We Also Recommend
---