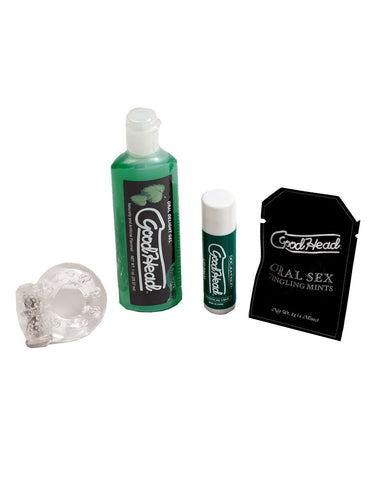 GoodHead Kit For Him Mint
GoodHead Kit For Him Mint * Good Head for HIM tips card * 1 fl. oz. Mint flavored Good Head Oral Gel * 4-Pack of Tingling Good Head oral sex mints * Flavored Good Head lip balm * disposable vibrating love ring

The GoodHead Kit for HIM provides all the essential oral sex tools! Flavored GoodHead lip balm will keep your lips soft. Delicious cool mint GoodHead gel tastes so good you won't ever want to come up for air. Pop one of the oral sex tingling mints in your mouth and unleash a tingling frenzy. Slip on the one-size-fits-all disposable vibrating love ring onto him or over your palm and watch him light up with joy! Think you know everything about oral sex? Learn some new tricks with the included GoodHead tips card. Kit includes 1 fl. oz. (29.6 ml) Mint flavored GoodHead Oral Gel, 4-Pack of Tingling GoodHead Oral Sex Mints, Flavored GoodHead Lip Balm, Vibrating Love Ring (1 cell battery included Good for 1-2 uses), and the GoodHead for HIM Tips Card.
---
We Also Recommend
---