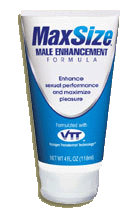 Max size cream
$49.99 $3999
Save $1000

SALE
---
---
This is a cream that men are supposed to apply daily. It works by drawing blood into the penile tissues. Because of this increased blood flow, the tissues of the penis are allowed to expand to allow even more blood to enter. Over time, this results in a fuller, firmer erection.

This is also an EXCELLENT foreplay cream. Because it assists with blood flow, it helps him achieve an erection, and well as increase his stimulation. AND, because of the whole stimulation aspect, when used during sex and the cream transfers to his partner, SHE enjoys that extra little zing, too.
Max Size® Cream is a male enhancement topical formula that provides a unique transdermal delivery system for quick absorption and immediate results. Max Size® Cream is the only topical male enhancement product with Butea Superba, a well-documented and patented natural PDE-5 inhibitor which helps essentially "lock-in" the enzyme responsible for enhancing erectile response.
Each Max Size® Cream 5 oz tube contains a one month supply.
---
We Also Recommend
---